Tech requirements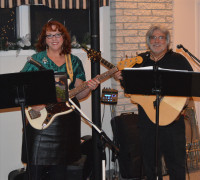 Please let us know if your venue or festival will supply sound; The Problematics can supply a sound system for use in most smaller venues. If you require us to provide equipment for a larger space or event, we would be happy to send you a quote. Drummer can be added as needed.
System: BOSE L1.
Microphones: Shure Beta 57A (Mike), Shure Beta 57A(Lorraine).
Amplification: (Lorraine) Fender (bass head,generic cabinet); (Mike) VOX AC30C2, Roland 360 Cube, Acoustimax (pre-amp), Korg effects box (6 DOD guitar effects pedals).
Instrumentation: (Lorraine) Fender Mustang bass, Fender Precision bass, Acoustic double bass (maker unknown), Stewart McDonald mandolin (A-style), miscellaneous percussion (4 drum conga set, various hand percussion); (Mike) Fender Stratocaster/black, Fender Stratocaster/white, Gibson ES-335, Tradition S-200 Goldtop, Epiphone Les Paul Special II, Danelectro DC-59 Reissue, Airline DX-44, Regal resonator guitar, Morgan Monroe Rocky Top/F-style mandolin, Kieran Maloney/A-style mandolin, Trinity College octave mandolin, Takamine (G-406S-LH) acoustic guitar, Martin D-18 acoustic guitar.
Additional equipment (to be rented or provided by presenter) for in-house/festival sound systems: two junction boxes to accommodate electric and acoustic instruments.
Stageplot: Viewed from audience, Lorraine left, Mike right.